Major John Andre Trial: 1780
Andre's Capture
---
---
A few miles later Andre encountered three Patriot "skinners." Andre mistook them for Loyalists and introduced himself as a British officer "on business of importance." He soon realized his mistake and showed them Arnold's pass made out to John Anderson, the name Andre had used in his correspondence. Andre tried to bluff them with threats that Arnold would be displeased if Andre were detained, implying that his first statement had been a ruse to protect himself from Loyalist "cow boys." Skinners and cow boys often relieved their respective enemies of worldly goods.
---
---
The men, John Paulding, David Williams, and Isaac Van Wert, of the New York militia, stripped and searched Andre. They found papers between his stocking and his English boot. Only Paulding could read. He realized Andre was a spy. After a brief conversation about the possibility of delivering Andre to British hands, for a consideration, the men took Andre to Lieutenant Colonel John Jameson at North Castle.
Jameson had received orders several days earlier to permit a John Anderson to pass through to West Point to visit Arnold. But this Anderson was headed in the wrong direction. The handwriting on all the papers, including the pass, was the same. However, Jameson was unfamiliar with Arnold's handwriting. Andre insisted he be taken to Arnold. Jameson reluctantly agreed. However, unbeknownst to Andre, Jameson sent the documents to General Washington.
Shortly after Andre left, under guard, Major Benjamin Tallmadge, the able head of Washington's secret service, arrived. Tallmadge convinced Jameson to recall this "John Anderson" but failed to convince him to recall the messenger sent to inform Arnold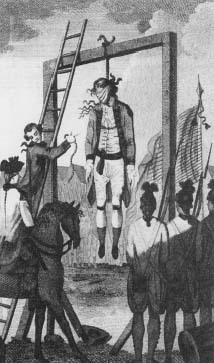 An etching of Major John Andre from an English textbook, (Courtesy, Library of Congress) of Anderson's detention. Arnold escaped to the Vulture shortly before Washington reached West Point. The incriminating documents caught up with Washington there and he sent men in pursuit of Arnold. But it was too late.
Andre realized he could no longer carry on the pretense of being John Anderson. He wrote to Washington. "What I have as yet said concerning myself was in the justifiable attempt to be extricated." Without naming Arnold, Andre stated that he had come, in uniform, "to meet, upon ground not within posts of either army, a person who was to give me intelligence." Andre insisted that his presence behind American lines was unplanned and undesired. Andre's argument was that he was, in effect, a prisoner of war and as such had a right to attempt escape in civilian clothes. This would be his defense at his trial.
Washington also received a letter from Arnold:
I have ever acted from a principle of love to my country, since the commencement of the present unhappy contest between Great Britain and the colonies. The same principle of love to my country actuates my present conduct, however it may appear inconsistent to the world, who very seldom judge right of any man's actions.
He exonerated his wife (who had plotted with him) of any complicity and asked Washington to protect her.
Additional topics