Gun Control laws
Information on the law about Gun Control
---
---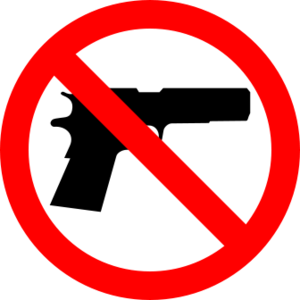 The state laws controlling the purchase of firearms are varied and constantly changing. The laws reviewed here are current, but there is still a great amount of legislation pending before state governments designed primarily to make the legal purchase of guns more difficult. Each state has some form of restriction on the buying of guns, though rural states tend to be less restrictive in controlling guns than highly urban states due to the greater numbers of hunters and sportsmen in their populations. Nonetheless, in most states convicted felons and minors cannot purchase guns; in some, aliens and individuals with mental disabilities cannot. Machine guns, automatic weapons, sawed-off shotguns, and guns with silencers are banned in many.
---
---
One of the more controversial restrictions applied to the purchase of guns is a waiting period, in which a certain amount of time must pass between the time an individual purchases a gun and is able to take possession of the gun. With the rise in gun-related crimes, a number of states already have instituted waiting periods to discourage rash actions.
A recent controversial restriction on gun ownership surrounds possession of guns in schools. The controversy arose when the Supreme Court struck down, in 1995, the Federal Gun-Free School Zone Act as an unlawful federal interference with states' abilities to govern themselves. Forty-nine states have legislation directly or indirectly affecting possession of guns in and around schools. Some of the states have enacted their legislation since the federal act was overturned, some have had such laws on their books for some time. In any case all states now specifically ban possession of firearms on school grounds.
Table 10: Gun Control
| | | | | | |
| --- | --- | --- | --- | --- | --- |
| State | Code Section | Illegal Arms | Waiting Period | Who May Not Own | Law Prohibiting Firearms On or Near School Grounds |
| ALABAMA | 13A-11-63, et seq. | Short-barreled rifle or Short-barreled shotgun | None | 1. Convicted of committing or attempting to commit crime of violence; 2. Drug addicts or habitual drunkard; shall not deliver to: a minor or a person of unsound mind; 3. Reasonable belief applicant has been convicted of crime; 4. Drug addict/habitual drunkard | 16-1-24.3 Expulsion of students for one year, who are determined to have brought to school or have in their possession a firearm in a school building, on school grounds, or school buses, or at other school-sponsored function. 13A-11-72 Except for authorized law enforcement officers, no person shall knowingly with intent to do bodily harm possess a deadly weapon on the premises of a public school. |
| ALASKA | 11.61.200 | Device made or adapted to muffle the report of firearm; firearm capable of shooting more than one shot automatically without manual reloading, by a single function of trigger; rifle with barrel less than 16 inches; shotgun with barrel less than 18 inches or firearm made from a rifle or shotgun which, as modified, has an overall length of less than 26 inches; possession, sale, transfer, or manufacture of above firearms is illegal | None | Convicted felon or adjudicated a delinquent minor for conduct constituting a felony if committed by an adult | Felony: 11.61.195(a)(2)(A) Misdemeanor: 11.61.220(a)(4)(A); 11.61.210(a)(7)-(8) |
Table 10: Gun Control—Continued
| | | | | | |
| --- | --- | --- | --- | --- | --- |
| State | Code Section | Illegal Arms | Waiting Period | Who May Not Own | Law Prohibiting Firearms On or Near School Grounds |
| ARIZONA | 13-3101, 3102 | Automatic weapons, rifle with barrel less than 16 inches or shotgun barrel less than 18 inches, or any firearm made from rifle/shotgun which as modified has overall length of less than 26 inches, device made or adapted to muffle the report of firearm; firearm capable of shooting one or more shots automatically without manual reloading, by a single function of trigger | None | 1. Anyone found to constitute a danger to himself or others pursuant to court order and whose court-ordered treatment has not been terminated by court order; 2. Convicted felon involving violence or possession and use of deadly weapon or dangerous instrument and whose civil rights have not been restored; 3. Imprisoned or in correctional/detention facility | Misdemeanor or Felony. 13-3102(A)(12) |
| ARKANSAS | 5-73-103, 104 | Machine gun, sawed-off shotgun or rifle, firearm specially made or adapted for silent discharge, removing or altering serial mark or ID # on firearm | None | 1. Convicted felon; 2. Adjudicated mentally ill; 3. Committed involuntarily to any mental institution; 4. Incarcerated person | Felony. 5-73-119(a)(2) |
| CALIFORNIA | Penal §§12020, 12021, 12071, 12072 | Cane gun; wallet gun; any firearm not immediately recognized as such; short-barreled shotgun or rifle, i.e., barrel of less than 18 inches for shotgun, less than 16 inches for rifle, or less than 26 inches designed to fire a fixed shotgun shell or cartridge; zip gun; any bullet with explosive agent; multi-burst trigger activator; any unconventional pistol; any undetectable firearm. | 10 days | 1. Concealed weapons, under 21 yrs.; other firearms, under 18 yrs.; 2. Convicted felon, including those certified by juvenile court for prosecution as adult; 3. Addicted to use of any narcotic drug; 4. Anyone whose express condition of probation is not to own firearm; 5. Persons convicted of certain misdemeanors | Felony. |
Table 10: Gun Control—Continued
| | | | | | |
| --- | --- | --- | --- | --- | --- |
| State | Code Section | Illegal Arms | Waiting Period | Who May Not Own | Law Prohibiting Firearms On or Near School Grounds |
| COLORADO | 18-12-102, et seq. | "Dangerous weapons": firearm silencer, machine gun, short rifle/shotgun, ballistic knife, those with ID or serial number altered or removed | None | Minor (under 18), previous conviction of felony attempt or conspiracy to commit such offenses | Class 6 Felony. 18-12-105.5 |
| CONNECTICUT | 29-33, 35; 53a-211, et seq.; 29-37a | Sawed-off shotgun with barrel less than 18 inches or overall length of less than 26 inches; silencer; pistol/revolver without permit outside house or business | 2 weeks from mailing of written application | 1. Minors (pistol/revolver); 2. Conviction of felony; 3. Illegal or unlawful alien (pistol/revolver); 4. Confined in a psychiatric hospital within preceding twelve months | Felony. 53a-217b |
| DELAWARE | Title 11 §1444 & §1445, §1448 | Destructive weapons: firearm silencer, sawed-off shotgun, machine gun or any other firearm which is adaptable for use as a machine gun. Dangerous weapons: weapon compressed by air or spring which discharges pellet, slug, or bullet (except B.B. or airgun) | None | 1. Convicted of felony or crime of violence involving physical injury to another, whether or not having in his possession any weapon during commission of such crime; 2. Anyone ever committed for mental disorder to hospital, sanitarium, or mental institution; 3. Convicted of unlawful use, possession, or sale of narcotic or dangerous drug; 4. Juvenile adjudicated as delinquent if conduct as adult would constitute a felony until 25th birthday; 5. Minor (under 18) (handgun, unless for recreational use while under adult supervision) | Felony. Title 11 §1457 |
| DISTRICT OF COLUMBIA | §22-4501, 4503, 4507, 4514 | Machine gun, sawed-off shotgun, or weapon/instrument of kind commonly known as a blackjack, slingshot, sand club; silencers; imitation pistol with unlawful intent; unlicensed pistol concealed | None | Pistols: 1. Drug addict; 2. Convicted felon; 3. Convicted of soliciting prostitution, keeping bawdy or disorderly house; 4. Vagrants, 5. Not of sound mind | Felony. 22-4502.01 |
Table 10: Gun Control—Continued
| | | | | | |
| --- | --- | --- | --- | --- | --- |
| State | Code Section | Illegal Arms | Waiting Period | Who May Not Own | Law Prohibiting Firearms On or Near School Grounds |
| FLORIDA | 790.001, et seq. | Short-barreled rifle or shotgun, machine gun | 3 days excluding weekends and legal holidays | 1. Minors (under 21); 2. Convicted felon (or 3 yrs. after sentence or probation fulfilled); 3. Has been convicted or committed for abuse of a controlled substance within last 3 yrs. 4. Anyone who chronically or habitually abuses alcohol or other substances; 5. Has been adjudicated incapacitated (or 5 yrs. after restoration of capacity) 6. Been committed to mental institution (unless free from disability for 5 yrs.) 7. Person subject to injunction against committing acts of domestic violence | Felony. 790.115, 810.095 |
| GEORGIA | 16-11-121, et seq. | Sawed-off shotgun or rifle; machine gun; dangerous weapon ("rocket launcher," "bazooka" or "recoilless rifle," "mortar," "hand grenade") or silencer | None, but 60 days for license to carry pistol | 1. Convicted felon; convicted of offense arising out of possession, manufacture, or use of a controlled substance; fugitive from justice; pending proceedings for felony, forcible misdemeanor, for carrying deadly weapon within school safety zone or at public gathering; 2. Under 18 yrs. old; 3. Anyone hospitalized as inpatient at any mental hospital or drug or alcohol treatment center within 5 yrs. of applying for gun license. | Felony. 16-11-127.1 |
Table 10: Gun Control—Continued
| | | | | | |
| --- | --- | --- | --- | --- | --- |
| State | Code Section | Illegal Arms | Waiting Period | Who May Not Own | Law Prohibiting Firearms On or Near School Grounds |
| HAWAII | 134-1, et seq. | Automatic firearms; rifles with barrel length less than 16 inches; shotguns with barrels less than 18 inches; cannons; mufflers/silencers; hand grenades; assault pistol; any ammunition coated with teflon or designed to explode/segment upon impact | 14 days generally | 1. Fugitive from justice; 2. Under indictment or convicted of felony or crime of violence or illegal sale of drug; 3. Under treatment for addiction to dangerous, harmful, or detrimental drug; or intoxicating liquor; 4. Diagnosed with significant behavioral, emotional, or mental disorder or acquitted of a crime on grounds of mental disease/disorder or committed to institution for persons with developmental disorder or mental retardation; 5. Anyone under 25 yrs. and has been adjudicated by family court to have committed a felony, two or more crimes of violence or illegal sale of drugs; 6. Minors who are under treatment for addiction to drugs/alcohol, fugitives from justice or determined not to be responsible for a criminal act or who has been committed to an institution on account of mental disease/defect/disorder | None |
| IDAHO | 18-3302 et seq. | Destructive Device: any type of weapon which will expel a projectile by explosive or other propellant, the barrel of which has a bore of more than .700 inches in diameter, except rifled and unrifled shotguns. | None | 1. Convicted felon; 2. Person in penal institution; 3. Under 18 without consent or accompaniment of parent or guardian (except sawed-off gun/rifle or automatic weapon) | Misdemeanor. 18-3302C; 18-3302D |
Table 10: Gun Control—Continued
| | | | | | |
| --- | --- | --- | --- | --- | --- |
| State | Code Section | Illegal Arms | Waiting Period | Who May Not Own | Law Prohibiting Firearms On or Near School Grounds |
| ILLINOIS | 720 ILCS 5/24-1, 5/24-3, 5/24-3.1 | Machine gun; rifle with barrel less than 16 inches; shotgun with barrel less than 18 inches or any weapon made from rifle or shotgun and as modified has overall length less than 26 inches; stun gun or taser; explosive or metal-piercing bullet; silencer | 72 hrs. | 1. Concealed weapon: under 18 yrs.; 2. Under 21 yrs. if convicted of misdemeanor other than traffic offense or adjudged delinquent; 3. Narcotic addict; 4. Patient in mental hospital within past 5 yrs.; 5. Mentally retarded; 6. Person confined in penal institution; 7. Felons | Felony. 720, ILCS 5/24-1(c); 5/24-3.3 |
| INDIANA | 35-47-1-7; 35-47-2-7, 8; 35-47-5-4.1, 8, 11 | Machine gun; sawedoff shotgun; armorpiercing handgun ammunition | None | 1. Convicted felon; 2. Drug abuser; 3. Alcohol abuser; 4. Mentally incompetent; 5. Under 18 (except if parent or guardian); 6. Convicted for any crime involving an inability to safely handle a handgun. | Felony. 35-47-9-2 |
| IOWA | 724.1, et seq. | Offensive weapons: machine guns, short-barreled rifle or shotgun; any weapon other than shotgun or muzzle-loading rifle, cannon, pistol, revolver, or musket, which fires or can be made to fire a projectile by the explosion of a propellant charge which has a barrel of more than six-tenths of an inch in diameter; any bullet containing any explosive mixture capable of exploding upon impact; silencer | None | 1. Convicted felon; 2. under 18 yrs. old; 3. addicted to the use of alcohol ar any controlled substance; 4. history of repeated acts of violence; 5. issuing officer reasonably determines applicant constitutes a danger to any person; 6. convicted of a crime defined in chapter 708 | Felony. 724.4B; 724.4A |
| KANSAS | 21-4201, et seq. | Shotgun with barrel less than 18 inches; automatic weapons; cartridges which can be fired by handgun and have plastic-coated bullets with core of less than 60% lead by weight; any device for use in silencing firearm | Certain cities and counties have waiting period but not statewide | 1. Both addicted to and an unlawful user of a controlled substance; 2. Person convicted of felonies specified under 21-4204(a)(3) and (4) may be denied gun ownership if they have been convicted within either the last 5 years or the last 10 years, depending on the crime | Misdemeanor. 21-4204(a)(5) |
Table 10: Gun Control—Continued
| | | | | | |
| --- | --- | --- | --- | --- | --- |
| State | Code Section | Illegal Arms | Waiting Period | Who May Not Own | Law Prohibiting Firearms On or Near School Grounds |
| KENTUCKY | 527.010, et seq.; 237.060 et seq. | Armor-piercing or "black talon" ammunition; defaced firearm | None | Convicted felon not granted full pardon/relief (including youthful offender convicted of felony offense); minor under 18 yrs. old (except when hunting or with permission of parent) | Felony. 527.070 |
| LOUISIANA | 14:95.1; 40:1751, et seq. | Machine and submachine guns; those with serial or ID # removed or altered | None | Convicted of certain felonies (murder, manslaughter, aggravated battery, violating uniform controlled substances law, etc.); convicted of crime of violence (felony burglary, felony illegal use of weapons) or crime defined as sex offense, or an attempt to commit these crimes. | Misdemeanor or Felony. 14:95.6; 114:95.2 |
| MAINE | Tit. 15§393; Tit. 17A §§1051, et seq. | Machine gun; armorpiercing ammunition | None | A person who has been convicted of a crime punishable by imprisonment for one year or more and including juveniles convicted of crimes which would have disqualified an adult. Five years from the date person is discharged from the sentences imposed s/he may apply for a permit to carry a firearm. However, that person may not be given a permit for a concealed weapon | Misdemeanor. Tit. 20-A, 6552 |
| MARYLAND | Art. 27 §§291A, 442, 481A, et seq. | Short-barreled rifle or shotgun | 7 days | 1. Fugitive from justice; 2. Convicted felon; convicted of crime of violence; 3. Habitual drunkard; 4. Addict/habitual user of narcotics/amphetamines/barbiturates; 5. If spent more than 30 consecutive days in mental institution for treatment; 6. Under 21 yrs. | Misdemeanor. 27, 36A |
Table 10: Gun Control—Continued
| | | | | | |
| --- | --- | --- | --- | --- | --- |
| State | Code Section | Illegal Arms | Waiting Period | Who May Not Own | Law Prohibiting Firearms On or Near School Grounds |
| MASSACHUSETTS | Ch. 269 §§10, et seq.; Ch. 140 §§121, et seq. | Machine guns or sawed-off shotgun, etc. legal in appropriate circumstances (i.e., place of business, home, etc.—with license); those with serial or ID number removed or altered; silencer | None | 1. Alien; 2. Convicted felon; 3. Convicted of unlawful use, possession, or sale of drugs or habitual drunkenness; 4. Under 18 yrs. (15-18 with parents' permission); 5. Confined in mental hospital or institution for mental illness; 6. Currently under order to surrender firearms license or ID card | Misdemeanor. 269,10(j) |
| MICHIGAN | MCL 750.222-239; 28.422 | Machine gun; automatic or semi-automatic weapons; silencers; mufflers; armor-piercing ammunition | None | 1. Under 18 yrs.; 2. Committed felony; 3. Insane and not restored to sanity by court order or under order for commitment due to mental illness; 4. Must answer 70% of answers correctly on Basic Pistol Safety Questionnaire in order to purchase gun | Misdemeanor. 750.237a |
Table 10: Gun Control—Continued
| | | | | | |
| --- | --- | --- | --- | --- | --- |
| State | Code Section | Illegal Arms | Waiting Period | Who May Not Own | Law Prohibiting Firearms On or Near School Grounds |
| MINNESOTA | 609.66, 67; 624.713; 624.7132 | Silencer; machine gun or machine gun conversion kit; short-barreled shotgun; spring gun; swivel guns, set guns | 5 days | 1. Minor under 18: Pistol or semi-automatic military-style assault weapon, except under supervision of parent/guardian, military instruction, firing range, successful completion of training course; 2. Convicted of crime of violence unless 10 yrs. has elapsed or civil rights have been restored, including juveniles; 3. Mentally ill; 4. Convicted for unlawful use, possession, sale of controlled substance other than small amount of marijuana or person who's been hospitalized or committed for treatment for habitual use of controlled substance or marijuana unless proof that they haven't abused in 2 yrs.; 5. Chemically dependent; 6. Peace officer who is informally admitted to treatment facility for chemical dependency unless he receives certificate for discharge; 7. Pistol or semi-automatic military-style assault weapon: aliens, fugitives from justice, those dishonorably discharged from armed forces | Felony. 609.66 Subd 1d |
| MISSISSIPPI | 97-37-1, et seq. | Machine gun or fully automatic firearm, hort-barreled rifle less than 16 inches, or shotgun less than 18 inches; silencer or muffler; toy pistols that can fire or make an explosion (cap pistols are expressly excepted); armor piercing ammunition | None | 1. Students on campus/education property; 2. Minors under 18; 3. Convicted felons (unless they have certificates of rehabilitation); 4. intoxicated persons | Felony. 97-37-17 |
Table 10: Gun Control—Continued
| | | | | | |
| --- | --- | --- | --- | --- | --- |
| State | Code Section | Illegal Arms | Waiting Period | Who May Not Own | Law Prohibiting Firearms On or Near School Grounds |
| MISSOURI | 571.020, et seq. | Machine gun; short-barreled rifle/shotgun; silencer; gas gun; explosive weapon; bullet which explodes upon impact; defaced firearm | 7 days, concealable weapons; otherwise, none. | For a concealable weapon permit: 1. Convicted of dangerous felony; 2. Fugitive from justice, habitually intoxicated or drugged condition, or mentally incompetent; 3. Under 21 yrs. old; 4. Dishonorably discharged from armed services; 5. MO resident for less than 6 mos.; 6. Not citizen of U.S. | Misdemeanor. 571.030.1 |
| MONTANA | 45-8-301, et seq. | Sawed-off rifle or shotgun; machine guns except registered and on own property; silencer | None | 1. Convicted felon; 2. Adjudicated mental incompetents; 3. Illegal aliens; 4. Minors | Felony. 45-8-334; 45-8-361 |
| NEBRASKA | 28-1201, et seq. | Machine gun; short rifle or short shotgun; defaced firearm; stolen firearm | None | 1. Under 18: revolver, pistol, or any short-barreled hand firearm (without supervision); 2. Convicted felon/fugitive from justice: barrel less than 18 inches | Misdemeanor. 28-1204.04 |
| NEVADA | 202.253, et seq. | Metal penetrating bullets; short-barreled rifle or shotgun; machine gun or silencer; firearm with altered serial number | Up to 120 days —for concealed weapons permit only | 1. Minor under 14 unless supervised; 2. Ex-felon unless pardoned or civil rights restored; 3. Fugitive from justice; 4. Unlawful user of, or addicted to, any controlled substance; 5. Adjudicated as mentally ill; 6. Illegally in the U.S. | Misdemeanor. 202.265 |
| NEW HAMPSHIRE | 159:1, et seq. | Teflon coated or armor piercing bullet | None | 1. Career criminals; 2. Convicted felons; 3. Minors | 193-D:1 |
Table 10: Gun Control—Continued
| | | | | | |
| --- | --- | --- | --- | --- | --- |
| State | Code Section | Illegal Arms | Waiting Period | Who May Not Own | Law Prohibiting Firearms On or Near School Grounds |
| NEW JERSEY | 2C:39-1, et seq.; 2C:58-1, et seq. | Sawed-off shotgun, silencer; imitation firearm (intended for unlawful use); defaced firearms; armor penetrating bullets; stun guns; machine guns or assault firearms if unlicensed | 30 days resident; 45 days nonresident (handguns) | 1. Convicted of aggravated assault, arson, burglary, escape, extortion, homicide, kidnapping, robbery, aggravated sexual assault, or sexual assault or any order prohibiting possession of firearms; 2. Committed for mental disorder unless satisfactory proof he no longer suffers from a disorder which interferes or handicaps him in handling a firearm; 3. Convicted of unlawful use, possession, or sale of controlled dangerous substance; 4. Minors under 18; 5. Drug dependent; 6. Physical defect which makes it unsafe for him to handle firearms | Misdemeanor. 2C:39-5e |
| NEW MEXICO | 30-7-1 et seq. | | None | Convicted felon | Felony. 30-7-2.1 |
| NEW YORK | Penal §§265, et seq. | Pistol; revolver; shotgun with barrel less than eighteen inches; rifle with barrel less than sixteen inches; disguised gun; machine gun, silencer, stun gun, electronic dart gun, bullet with explosive substance on impact, armor piercing ammunition, 20 or more firearms | None | 1. Convicted felon; 2. Alien; 3. Minor under 16: possession of air gun, spring gun, weapon where loaded or blank cartridges can be used | Misdemeanor. Penal 265.01(3); 265.06 |
| NORTH CAROLINA | 14-402, et seq. | Machine gun, submachine gun, or other like weapons, unlicensed pistol or crossbow | 30 days (for concealed handgun carry permit) | 1. Convicted felon cannot own handgun or gun with barrel less than 18 inches or overall length less than 26 inches or any weapon of mass death and destruction within 5 yrs. of conviction or termination of sentence, whichever is later; 2. Fugitive from justice; 3. Unlawful user of drugs; 4. Adjudicated incompetent on grounds of mental illness; 5. Illegal aliens | Misdemeanor or Felony. 14-269.2(b) |
Table 10: Gun Control—Continued
| | | | | | |
| --- | --- | --- | --- | --- | --- |
| State | Code Section | Illegal Arms | Waiting Period | Who May Not Own | Law Prohibiting Firearms On or Near School Grounds |
| NORTH DAKOTA | 62.1-02-01, et seq. | Machine gun; fully automatic rifle; silencer; federally licensed firearm or dangerous weapon not in compliance with National Firearms Act; short-barreled rifle or shotgun | None | 1. Convicted of felony involving violence or intimidation from date of conviction or release from incarceration for 10 yrs. (whichever is later); 2. Convicted of other felonies not mentioned above or Class A misdemeanors for 5 yrs.; 3. Diagnosed and confined/committed to hospital or other institution as mentally ill or mentally deficient person (does not apply if more than 3 yrs. have passed); 4. Under 18 unless supervised and for purposes of safety training, hunting, target shooting | Misdemeanor. 62.1-02-05 |
| OHIO | 2923.11, et seq. | Sawed-off automatic firearm; zip gun; firearm or ammunition manufactured and designed for military purposes; silencer or muffler (unless qualified and licensed) | None | 1. Fugitive from justice; 2. Under indictment or convicted of felony of violence or adjudged juvenile delinquent for commission of such felony; 3. Under indictment or convicted of illegal possession, use, sale of drugs; 4. Drug dependent or chronic alcoholic; 5. Mentally incompetent; 6. Under 18 except for hunting or marksmanship and under adult supervision | Felony. 2923.122 |
| OKLAHOMA | Tit. 21 §§1272, et seq. | Sawed-off shotgun or rifle; slung shot | None | 1. Minors (except for hunting, etc. and under adult supervision); 2. Convicted felon, unless pardoned (includes those adjudicated as delinquent child—within 10 yrs.); 3. Mentally incompetent or insane | Misdemeanor. Tit. 21, 1277; Felony. 1280.1 |
Table 10: Gun Control—Continued
| | | | | | |
| --- | --- | --- | --- | --- | --- |
| State | Code Section | Illegal Arms | Waiting Period | Who May Not Own | Law Prohibiting Firearms On or Near School Grounds |
| OREGON | 166.250, et seq. | Machine gun; short-barreled rifle/shotgun; silencer; armor piercing ammunition | 15 days | 1. Under 18 yrs., except for hunting or with parent's consent; 2. Convicted felon or juvenile felony offender (within 4 yrs.); 3. Committed to Mental Health and Developmental Disability Services Division or mentally ill; 4. Subj. to order prohibiting purchase or possession of firearms; 5. Inmates of institutions | Felony. 166.370 |
| PENNSYLVANIA | Tit. 18 §§908, 6105, 6110, 6111 | Machine gun; sawedoff shotgun; firearm specially made or adopted for concealment or silent discharge; altered manufacturer's number | 48 hrs. | 1. Convicted of felony, crime of violence; 2. No delivery to persons under 18 yrs.; 3. If you have reason to believe convicted of crime of violence; drug addict; habitual drunkard; unsound mind 4. Fugitive from justice 5. Incompetent 6. Illegal Alien; 7. Convicted of DUI on 3 separate occasions within a 5-year period; 8. Subject of an active protection from abuse order. | Misdemeanor. 912 |
| RHODE ISLAND | 11-47-2, et seq. | Sawed-off shotgun or rifle; machine gun; silencer; armor piercing bullets; defaced firearm | 7 days | 1. Illegal aliens; 2. Mentally incompetent under treatment/confinement; 3. Drug addict adjudicated or in treatment; 4. Habitual drunkard adjudicated or in treatment; 5. Convicted of crime of violence; 6. Fugitive from justice 7. Minors (under 18) (unless holds a permit or under adult supervision) | Felony. 11-47-60; 11.-47-60.2 |
| SOUTH CAROLINA | 16-23-30, 230, 520 | Machine gun; sawedoff shotgun/rifle, military firearm; teflon-coated ammunition, defaced firearm; tear-gas gun | None | Pistol: 1. Convicted of crime of violence; 2. Member of subversive organization; 3. Under 21 with military exception; 4. Anyone court has adjudged to be unfit to possess pistol; 5. Fugitive from justice; 6. Habitual drunkard or drug addict; 7. Mentally incompetent | Misdemeanor or Felony. 16-23-420, 430 |
Table 10: Gun Control—Continued
| | | | | | |
| --- | --- | --- | --- | --- | --- |
| State | Code Section | Illegal Arms | Waiting Period | Who May Not Own | Law Prohibiting Firearms On or Near School Grounds |
| SOUTH DAKOTA | 22-1-2; 22-14-6, 16; 23-7-9, 46 | Controlled weapon-silencer; machine gun; short shotgun or rifle; altered manufacturer's serial number | 48 hrs. (pistol only) (None if valid permit to carry a concealed pistol) | 1. Convicted of felony or crime of violence in last 15 yrs.; 2. Minor (under 18 yrs. old); 3. Convicted of drug possession in last 5 years. | Misdemeanor. 13-32-7 |
| TENNESSEE | 39-17-1301, et seq. | Machine gun; short-barreled rifle or shotgun; silencer; explosive weapon; device designed, made or adapted for delivering or shooting an explosive weapon | 15 days | 1. Convicted of felony (imprisonment exceeding 1 yr.) unless pardoned or conviction expunged; 2. Fugitives from justice; 3. Unsound mind; 4. Minors; 5. Addicted to alcohol; 6. Drug addict; 7. Convicted of illegal sale of alcoholic beverages | Misdemeanor or Felony. 39-17-1309 |
| TEXAS | Penal §§46.05, et seq. | Machine gun; short-barreled firearm; silencer; armorpiercing ammunition; zip gun; explosive weapon | None | 1. Convicted felon within 5 yrs. of release or parole; 2. Sale, rental, lease, or gift to minor under 18 without parental consent; 3. Confined in penal institution. | Felony. Penal 46.03, 46.11 |
| UTAH | 76-10-501, et seq. | Defaced pistol or revolver | None | 1. Convicted of crime of violence or on parole or under indictment; 2. Addicted to use of narcotic drugs; 3. Mentally incompetent or defective; 4. Illegal alien (handguns only); 5. Dishonorably discharged from Armed Forces (handguns only); 6. Minors (some exceptions). | Misdemeanor. 76-10-505.5; Felony. 76-3-203 |
| VERMONT | Tit. 13 §§4001, et seq. | Silencer; "zip" gun; slung shot | None | Child under 16 without permission of parents | Misdemeanor. Tit. 13, 4004 |
| VIRGINIA | 18.2-279, et seq. | Sawed-off shotgun/rifle; machine gun; silencer | State Police have until end of next business day after inquiry for possible criminal record by telephone | 1. Convicted felons or those subject to protective order; 2. Minors: handguns; 3. Aliens; 4. Legally incompetent, mentally incapacitated, involuntary committed, insanity-acquitted | Felony. 18.2-308.1 |
Table 10: Gun Control—Continued
| | | | | | |
| --- | --- | --- | --- | --- | --- |
| State | Code Section | Illegal Arms | Waiting Period | Who May Not Own | Law Prohibiting Firearms On or Near School Grounds |
| WASHINGTON | 9.41.040, et seq. | Machine gun, short-barreled shotgun or rifle; defaced firearm | 5 days (up to 60 days for nonresidents) (Pistols only; waived if purchaser produces a valid concealed pistol license) | 1. Aliens; 2. Convicted of serious offense or domestic violence/harassment offense or felony in which firearm was used or displayed (unless charge dismissed or received probation); 3. Minors under 18, except as provided (hunter's safety course, hunting, trapping, etc.); 4. Felony conviction for violation of Uniform Controlled Substances Act (or equivalent); 5. Convicted 3 times within 5 yrs. of driving under the influence; 6. Committed by court for treatment of mental illness | Misdemeanor. 9.41.280 |
| WEST VIRGINIA | 61-7-7, 9 | Machine gun; submachine gun or other fully automatic weapon | None | 1. Convicted of felony; 2. Dishonorably discharged from armed forces; 3. Mentally incompetent; 4. Illegal alien; 5. Addicted to drugs/alcohol or unlawful user; 6. Minors (under 18) without parental permission; 7. Convicted of domestic violence | Felony. 61-7-11a |
| WISCONSIN | 175.35; 941.26, et seq. | Machine gun or other fully-automatic weapon; short-barreled rifle/shotgun; silencer | 48 hrs. | 1. Convicted of felony in this state or what would have been a felony if committed in this state or adjudicated delinquent for act considered felony for adult; 2. Mental disease or defect reason for not guilty or insanity | Misdemeanor. 948.605 |
| WYOMING | 6-8-102, et seq. | Not listed | None | Convicted of violent felony or attempt to commit violent felony | 6-8-104 |
Additional topics